Marcy Kritikos
Marcy is the owner/head instructor of GenuWIN Sports Training Inc. She has been a private instructor since 1999. Marcy and her staff perform approximately 250 lessons per week and and broke the 10,000 lesson mark in 2013. Marcy retired from coaching at North Central College in 2011. She coached at North Central College for 9 years. Prior to NCC, she coached at Argo High School for five years. She graduated from Morton High School in 1988 where she was an All-Conference, All-Area, and All-State performer as a pitcher and a first baseman. Marcy completed her bachelor's degree at North Central in 1992. While playing for North Central, she continued her success, earning All-CCIW honors from 1989-1992 and an NCAA All-Region honor in 1990. She still holds numerous records at NCC including fourth in career RBI (99), second in single season RBI (45), fifth in career doubles (35), sixth in single season doubles (14), 12th in career hits (134), second in career walks taken (78), fifth in career putouts by a first baseman (471), fourth in career fielding percentage (.976), third in career innings pitched (388.6), fifth in single season innings pitched (145), fourth in career wins (37), fifth in career ERA (1.80), fourth in career shut-outs (10.5), fourth in single season shut-outs (7), fourth in career strike-outs (124), and second in single season no-hitters (3) including one perfect game. Marcy received the Cleo Tanner Award from North Central College in 2011. "She has helped to shape the face of athletics for young women, both with her contributions to the community and to North Central College. In this role of a private hitting and pitching instructor, Marcy has had the opportunity to positively affect many young women and grow the sport of softball in the western suburbs." Marcy was also inducted to The National Association of Professional Women (NAPW) in 2011.
---
Dana Litchfield
Dana has been a private instructor since 2004. She has performed thousands of pitching, hitting, and slapping lessons over the years. She is able to provide fielding, throwing, and catching lessons as well. Dana trains individual teams and organizations annually. She graduated from North Central College in 2005 with a degree in Exercise Science and Psychology and received her nursing degree in 2008 from Morton College and is a licensed RN . Dana received All-CCIW, Great Lakes All-Regional, and All-Tournament honors while at NCC. She holds the NCC single season record for getting hit by a pitch (16), third in hitting streaks (16), twenty third in career hits (104) and ranks sixth with a single season batting average of 427. She was co-captain of the Cardinals her junior and senior year. Dana graduated from Marengo Community High School in 2001 where she was an All-Conference and All-Area shortstop.
---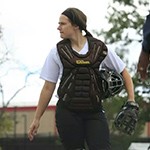 Kaitlyn Skarecky
Kaitlyn has been an instructor since January, 2012 after being a long time student of GST. She played Varsity all four years at Naperville Central High School. As a catcher, she earned All Academic, All Conference honors all four years. She batted .401 with an on base percentage of .437. She also played Elite Travel Ball at the 18U level from 2010-2014. Kaitlyn entered Purdue University – Calumet in the fall of 2014 where she caught and played third base while pursuing a degree in Accounting. After a successful Freshman year with a batting average of .369 and placing in the top 4 in eleven hitting categories, a knee injury ended her playing career. Along with instructing at GST, Kaitlyn is currently working as a Tax Processing Specialist while pursuing her masters in Business Administration.
---
Kelly Gagen
Kelly has been involved in coaching different levels of softball from recreational leagues to travel teams since 2005. She has provided one on one instruction, assisted at camps, and organized clinics for neighborhood softball leagues. After pitching 4 years of varsity softball on her high school team as well playing on an elite travel team Kelly attended Northern Illinois University and graduated in 2006 with a degree in special education. She has been a teacher of the visually impaired for 9 years with experience helping children aged 3-21 with special needs. She received an award in 2012 for excellence in teaching.
---
Sam Owens
Samantha joined the staff in June of 2019. A former GST student for over 7 years, Sam played varsity softball for 4 years at Stagg High school in Palos Hills (2011-2015). She was All-Conference for 3 years and was team MVP her senior year. Samantha played for the Illinois Sparks for 7 years, three of them at the 18U level. Samantha attended Moraine Valley Community College for two years (2016-2017). Going into her Sophomore year of college Samantha suffered a bicep tendon tear but came back and had one of her best seasons ever. She led the team with the highest batting average in her two years of playing at Moraine and received All- Conference and All-region honors there. She transferred to Aurora University her Junior year, started and appeared in 46 games for the Spartans, hitting .426 with 69 hits, 2 home runs, 22 runs scored, and 36 RBI's and was named to the Second Team All-Conference. She is currently finishing her Senior year as a Spartan softball player, hitting. 398 with 39 hits, 9 doubles, 3 home runs, 25 RBIs. Samantha will be finishing up her season in May hoping to win conference and make it into the NCAA tournament. Samantha is going to school to earn her degree in Physical Education with an endorsement in health. Samantha hopes to become a coach at any softball level and wants to help young girls love the game of softball as much as she did growing up.
---
---
Lauren will join the staff in the fall of 2020. At a young age she started playing softball with the first and last travel teams of Frankfort, IL, and ended with the Dirt Devils. As a GST stiudent, Lauren attended pitching lessons with Coach Marcy where she advanced her pitching skills. While playing first base her Sophomore and Junior years at Lincoln Way East High School, she and her team made it to the State Championship Tournament in back to back years. She was recruited to play at Judson University, an NAIA school in Elgin, where she was either the starting pitcher or was playing first base. Lauren was also one of the top hitters, hitting in the middle of the lineup. While at Judson University, her pitching led the team to the Christian National Championship tournament 3 years in a row, finishing as one of the top teams. As an athlete at Judson University, she was a 2x Pitcher of the Year, 2x All-American, 2x All Region, 3x All-Tournament Team, All Conference, several times awarded pitcher of the week, and was inducted into the Elgin Hall of Fame. Unfortunately, her senior year came to an end due to Covid-19. However, before the season was over, her pitching led her team with a fall season winning record of 14-6, winning 9 in a row. Having graduated from Judson University, she is now attending North Central College in Naperville to complete her Masters in Business Administration. Lauren is also coaching as the Graduate Assistant for the NCC Softball Team. Her passion is to help players reach their highest potential, and experience the greatness of the game, the way she did.